What to do with a degree in French? Make a living teaching English in France! Our course is what you need to get started as an English teacher, and you'll be on the spot to start teaching straight away!
Unemployed in France? You could get external funding for our TEFL course from the Pole Emploi. Just mention this on the application form and we'll send you what you need to take to them.
TEFL course overview
The biggest and best known externally accredited TEFL course in the south of France
CELTA equivalent qualification
Entirely onsite course for 4 weeks – no online element. Address above
6 hours of observed teaching practice, with daily feedback from qualified trainers
Over 75 hours of teaching and grammar theory, including teaching Business English and teaching English to children and teenagers. Other courses charge for these as extras!
Lifetime job guidance – wherever in the world you want to teach
Parking outside the training centre
---
Watch our video to find out more!
---
Also:
Lesson planning help from qualified trainers every afternoon
Observations of experienced TEFL teachers
Accommodation service to suit your needs
Discount for trainees on our intensive French courses in Toulouse
Detailed information about French contract types, and setting up as a freelancer in France
How to find TEFL work in any town or city worldwide
Tips on opening your own language school
CV and job interview help
Enseigner l'anglais en France
"Bilingue anglais francais, en quoi travailler?" Nous offrons une formation pour devenir formateur d'anglais en France et partout au monde!
---
Retired in France, looking for some extra income? Former schoolteacher looking for a new start abroad? Looking for a gap year in France? Unemployed in the Tarn? Looking for work in the Gers? Bored in the Hautes Pyrenees? Our TEFL course is just what you need! You might be already TEFL teaching but not qualified, or a UK schoolteacher fed up with discipline problems and paperwork. Many of our trainees  are schoolteachers looking for a new start abroad. Teaching English abroad is a popular choice for people quitting UK teaching.
Are we the TEFL course with the best reviews?
Find out more about the course
"I can't praise Jonathan and the TEFL team enough for their professionalism and their honest dedication to good TEFL teaching practice. It can be hard work but the TEFL TOULOUSE training was invaluable. We were encouraged to get out of our comfort zones and open ourselves to new experiences, both as students and as teachers." Eddy Belleville, UK
---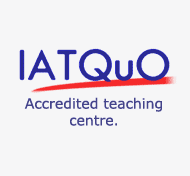 Our course is externally accredited by IATQuO and in line with British Council recommendations for TEFL courses
---
---