The TEFL Toulouse course is moderated with monthly visits by the UK based body IATQUO (International Accreditation of TESOL Qualifying Organisations). They only accredit TEFL courses, and you will almost certainly get to meet them in week 4 when you come to do your course with us.
Don't worry, they are checking up on us, not on you!
At the end of the course we also  hear your feedback, with satisfaction surveys immediately after the course and 6 months afterwards. So you are also part of the moderation process!
Some statistics from 2020 (affected by COVID)
49 trainees
6 courses run – 3 cancelled
2 trainees abandoned their course
96% succcess rate in gaining certification
Anotea rating 4.8 out of 5 (Pole Emploi ratings website)
4.9 out of 5 on Google (visible on Google maps)
Needless to say our course is in line with British Council recommendations for TEFL courses
Since 2009 we have always been successful in gaining accreditation by IATQuO, which means that our course surpasses internationally recognised requirements for TEFL courses, which are:
A minimum of 100 hours of contact time between the trainer and the trainees, with a balance between theory and practical work
At least 6 hours of observed teaching practice with real students and indepth feedback
Suitably (eg DELTA, MA TESOL) qualified and experienced tutors
Regular moderation visits by a moderating body specialising in TEFL
---
Taking a course accredited by a reputable body adds the required weight to your TEFL qualification and gives you peace of mind when you book a course. There is an excellent article here on what to avoid and how to choose a TEFL course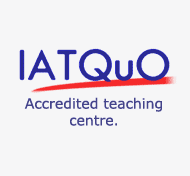 Find out more about IATQUO, its quality standards and accreditation criteria
"The accreditation that comes with your TEFL certificate carries a lot of weight and I was so pleased to see employers take it seriously."
Arlen Mabe, USA